A Study of Permissioned Blockchain-Based Framework for Land Ownership Tracking in Indonesia
Keywords:
Land Registry, Blockchain, Proof of Authority, Land Certificate Management, Indonesia
Abstract
The rapid development of the economy in Indonesia has made land an important asset. The land registry system in Indonesia or known as Pendaftaran Tanah Sistematik Lengkap (PTSL) is enforced by the government to govern land property ownership management. However, the current land registry uses a conventional information system which lacks the ability to track data changes and verify their integrity, especially in land ownership documents. Introduction of unintended or fraudulent changes to the data may be made to look natural. This could be identified from the possibility of unauthorized users tampering and modifying the data in the land ownership document. Usually, they modify the data in land ownership documents mainly for their own personal gains or some might even attempt to monopolize the land transactions market or conduct illegal acts such as corruption. This prolonged issue could further lead to land disputes and uncertainty in land ownership issues. Therefore, this paper aims to propose a proof-of-authority permissioned blockchain concept to digitize and track land ownership registration. By utilizing blockchain technology, all of the records will be validated and stored securely in the blockchain network. In addition, permissioned access is added to only allow authorized users able to access the system; thus only specific users are able to perform actions on the system and are required to identify themselves. Through this proposed solution, the integrity of changes in land ownership documents can be achieved and validated.
Downloads
Download data is not yet available.
References
Dalimunthe, C. (2000). Pelaksanaan landreform di indonesia dan permasalahannya. FH USU Press, Medan.
S. Basuki and R. Anugrah, "Transaction Document Security Protection In The Form Of Image File, Jpg Or Tif Interbank Transfer Using Steganography And Cryptography," IAIC Trans. Sustain. Digit. Innov., vol. 1, no. 1, pp. 42–48, 2019.
Mujiburohman, D., A. (2018). Potensi Permasalahan Pendaftaran Tanah Sistematik Lengkap (PTSL). Doi: dx.doi.org/10.31292/jb.v4i1.217
Rozi Aprian Hidayat. (2016). Analisis Yuridis Proses Pembatalan Sertifikat Hak Atas Tanah pada Kawasan Hutan. Jurnal Ius: Kajian Hukum dan Keadilan, Universitas Mataram,4(2), pp. 82-95
Istiana, A. (2019). Efektivitas Pendaftaran Tanah Sistematis Lengkap (PTSL) Hak Atas Tanah. Jurnal Hukum: Al Hikam. Vol. 6, No. 2, pp. 181-197.
Syahri, R., A. (2014). Perlindungan Hukum Kepemilikan Hak Atas Tanah. Jurnal Ilmu Hukum Legal Opinion. Ed. 5, Vol. 2, pp. 2.
Negara, C., U., K., K., Maylinda, P., D., & Pratiwi, N., W., W. (2021) . Urgensi Sistem Pengamanan pada Sertifikat Tanah Digital. Rewang Rencang: Jurnal Hukum Lex Generalis. Vol. 2, No. 9
Refialy, L., Sediyono, E., dan Setiawan, A. (2015). Pengamanan Sertifikat Tanah Digital Menggunakan Digital Signature SHA - 512 dan RSA. Jurnal Teknik dan Sistem Informasi. Vol. 1, No. 3, pp. 229
Noor, M., U. (2020). Implementasi Blockchain di Dunia Kearsipan: Peluang, Tantangan, Solusi, Atau Masalah Baru?. Khizanah al-Hikmah: Jurnal Ilmu Perpustakaan, Informasi, dan Kearsipan. Vol8, No.1, pp.87
Aborujilah, A., Yatim, M. N. B. M., & Al-Othmani, A. (2021). Blockchain-based adoption framework for authentic land registry system in Malaysia. TELKOMNIKA (Telecommunication Computing Electronics and Control), 19(6), 2038-2049.
Khalid, M. I., Iqbal, J., Alturki, A., Hussain, S., Alabrah, A., & Ullah, S. S. (2022). Blockchain-Based Land Registration System: A Conceptual Framework. Applied Bionics and Biomechanics, 2022.
Nandi, M., Bhattacharjee, R. K., Jha, A., & Barbhuiya, F. A. (2020). A secured land registration framework on Blockchain. In 2020 Third ISEA Conference on Security and Privacy (ISEA-ISAP) (pp. 130-138). IEEE.
Anatami, D. (2017). Tanggung jawab siapa, bila terjadi sertifikat ganda atas sebidang tanah. Jurnal Hukum Samudra Keadilan, 12(1), 1-17.
Setiawan, W. (2000). Studi Tentang Kasus-Kasus Pertanahan di Indonesia yang Dilaporkan ke Deputi Bidang Pengawasan Badan Pertanahan Nasional. Retrieved 5 July 2022 from http://repository.stpn.ac.id/2304/1/Wawas%20Setiawan.pdf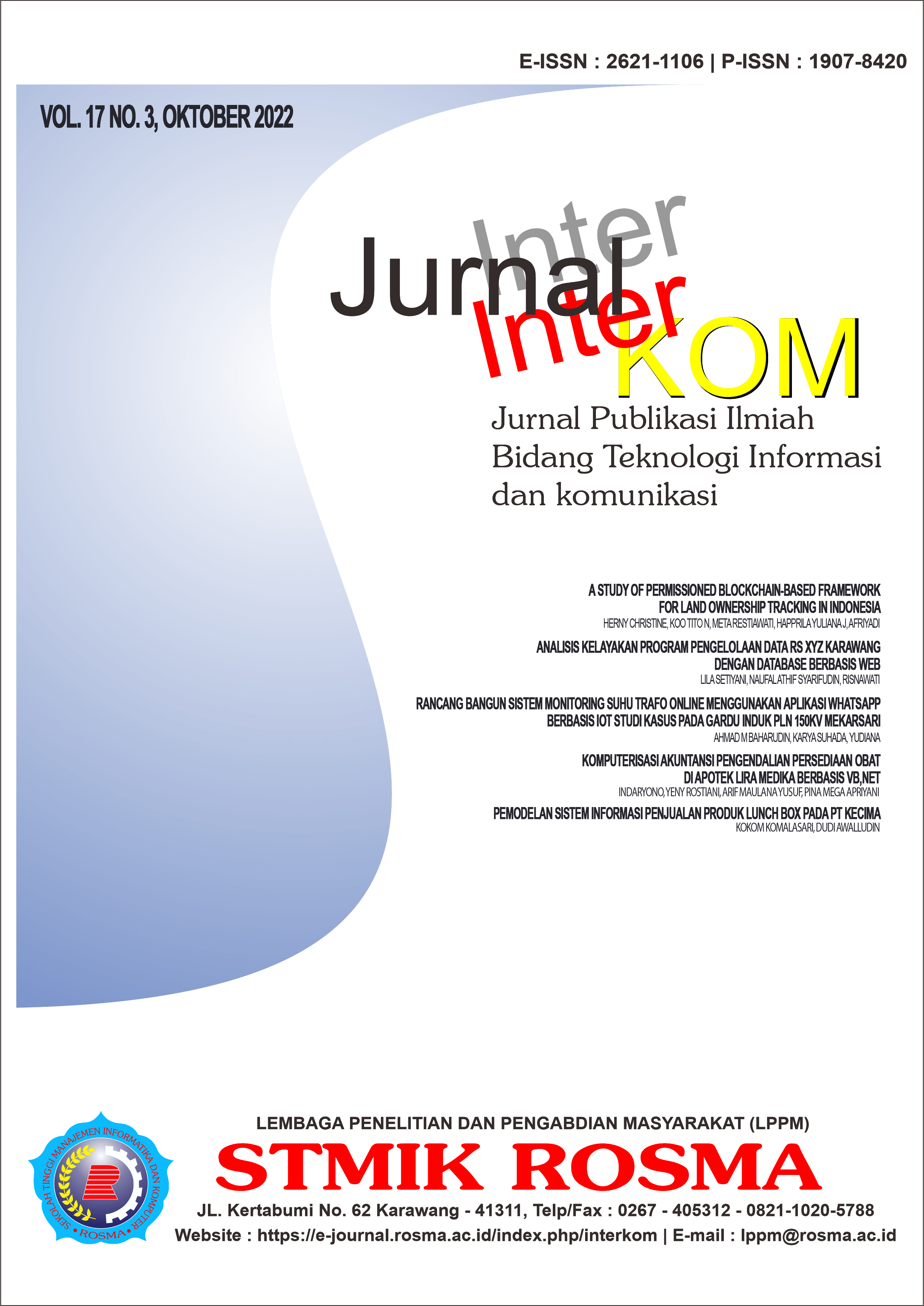 Downloads
How to Cite
[1]
H. Christine, K. T. Novelianto, M. Restiawati, H. Y. Jayanti, and A. Afriyadi, "A Study of Permissioned Blockchain-Based Framework for Land Ownership Tracking in Indonesia", interkom, vol. 17, no. 3, pp. 119–126, Oct. 2022.